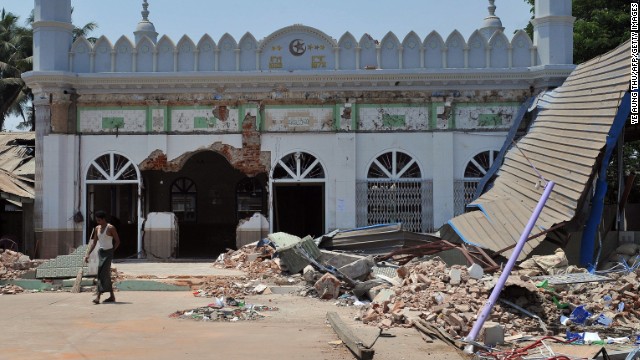 A state of emergency in Myanmar was put in place to stop "attempts by a small number of people to spread ... violence to other parts of the country," President Thein Sein said Thursday.
In his first speech since making the emergency declaration last week in response to clashes between Buddhists and Muslims, he accused "instigators" of escalating a private dispute into sectarian violence that killed at least 40 people last week.
"We did not resort to the use of force immediately mainly because we do not want any possible endangerment of our ongoing democratic transition and reform efforts," the president said. "That said, I am firmly committed to use the power vested in me by the constitution to deploy our security forces and to use existing laws to prevent and protect the life, liberty and security of my fellow citizens."
READ: Tensions persist between Buddhists and Muslims in Myanmar
READ: Myanmar police fire rubber bullets at rioters
-Channel News Asia (March 28, 2013)