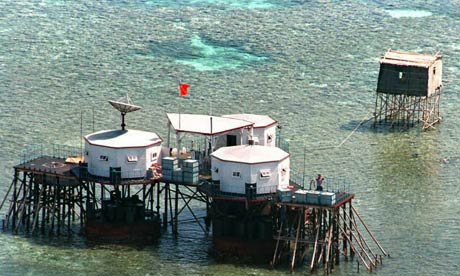 Some neighbors in Southeast Asia have expressed their support for the Philippines regarding the territorial dispute involving China at the South China Sea (also called West Philippine Sea).
"The leaders of Singapore, Malaysia, and Vietnam have extended their warm support to us regarding issues that has wide effect and implication in our region--particularly regarding the talks on the West Philippine Sea," Aquino said in a speech on his return on Sunday, September 9, from the Asia Pacific Economic Cooperation (APEC) Economic Leaders' Meeting in Vladivostok, Russia.
The Philippines, Malaysia, China, Brunei, Taiwan and Vietnam have overlapping claims over some islands in the West Philippine Sea.
Foreign Affairs Secretary Albert del Rosario said that both Aquino and Malaysian Prime Minister Abdul Razak expressed the need to adopt a common position in ASEAN on the West Philippine Sea dispute.
Malaysia is hosting a peace talk between the government and Muslim group from Mindanao. Del Rosario added that both countries' leaders expressed optimism that the peace negotiations on the issue could be finalized "in the next couple of months," and that Abdul Razak wishes to be present when the peace agreement is signed.
Vietnam leaders, on the other hand, renewed their "deep friendship" and cooperation to the Philippines by helping address the challenges that the two nations are both facing.
"Vietnam has been a partner of the Philippines in terms of a cooperation to see how we both can address the challenge and be able to also work with other countries within ASEAN, and also our other dialogue partners in terms of being able to move forward the objectives, which we had closely defined as a peaceful resolution to the dispute in accordance with international law," del Rosario said.
Both the Philippines and Vietnam accuse China of a campaign of intimidation to press its claims. Tensions between the Philippines and China have been particularly pronounced, escalating dramatically in April when vessels from the two countries became engaged in a stand-off at a remote shoal in the sea.

- Rappler (September 10, 2012 12:01AM)