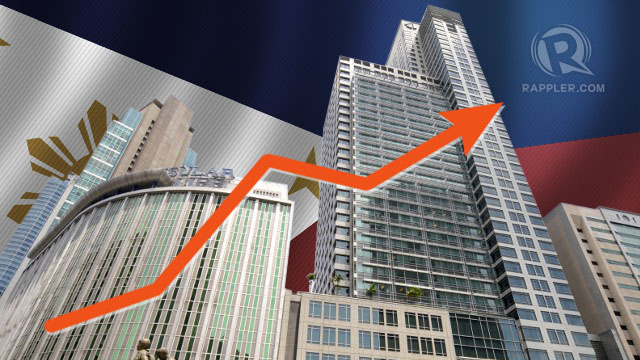 Benign inflation and election spending are expected to boost the country's economic growth close to 7% in the first quarter, according to the FMIC-UA&P Capital Market Research Center.
In its Market Call report released on Wednesday, March 20, the local think tank said inflation may not go beyond 3.3% in the first quarter while the May 13 polls will likely increase consumption and spending in both the public and private sectors.
These will be a good complement to the disclosure of the Department of Public Works and Highways (DPWH) that it has already bidded out 86% of its projects for 2013.
"On the back of manageable inflation, strong government and private election spending, booming construction, and a modest rebound of exports, we expect GDP (Gross Domestic Product) to expand at close to 7% in the first quarter," the think tank said.
Poor fiscal performance
Against this backdrop, the think tank expressed concern over the country's fiscal performance saying that while the Philippines was successful in keeping its deficit to GDP ratio at 2.3% in 2012, continuing this practice may again result in hampering economic growth.
In 2011, the Philippine economy only grew 3.7% mainly due to the government's underspending and the dismal exports performance. The government underspent on much-needed infrastructure projects that would have spurred consumption and economic growth.
The FMIC-UA&P Capital Market Research Center said government spending, while higher than in 2011, has still not helped boost economic growth in 2012.
"Last year, the collected revenue totalled P1.52 trillion, of which P1.35 trillion comes from tax and the remaining P170 billion from non-tax revenue. This was 11.8% higher than the collected revenue in 2011. On the other hand, government spending reached P1.75 trillion, 12.2% up than in 2011," the think tank explained.
"Given these figures, the government received lots of praises thinking that these are the cause of 6.6% GDP growth last year. Unfortunately, it is not since both revenue collection and government spending fell short of their targets," it said.
The think tank said the government's revenue collection fell by 2.56% mainly because the Bureau of Customs (BOC) failed to generate revenue, falling below its target by 16%. Government spending, meanwhile, reached P1.75 trillion or 12.2% higher than the P1.56 trillion spent in 2011.
However, the think tank said the disbursed infrastructure and capital outlays was just P186 billion, below the P298 billion budget. This means that the deficit was contained in a lower than expected level.

- Rappler (March 20, 2013)