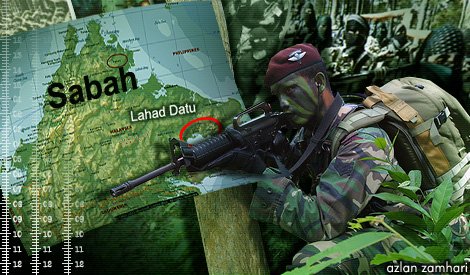 Three weeks after the standoff between the royal army of the Sultanate of Sulu and the Malaysian forces started, the situations in Sabah remains unchanged despite of numerous reports of imminent attack by security forces.
Both sides show no signs of willingness to retreat. Either of them wants to give up the land they both considered as their own.
Last Friday, February 22, The Philippine Navy has intensified their efforts of patrolling the sea near the disputed island in the southern part of the Philippines. Aside from the six naval vessels and a Philippine Navy Islander aircraft, additional vessels from the Philippine Coast Guard have been sent to the area.
The following day, the Philippine foreign affairs department asked its Malaysian counterpart to extend the deadline that they gave for the Sulu army to leave Sabah. But no official statement has been released by the Malaysian government as they only followed a wait - and - see stance in the ongoing standoff.
In an effort to ease the tension, the Philippine government has decided to send a humanitarian ship to Sabah to bring home the women and children who are among the sultan's armed followers. But this become useless as the leaders stopped their supporters to leave Sabah by allegedly giving them a warning shot.
Vice President Jejomar Binay has confirmed that he met with Sultan Jamalul Kiram III to appeal for a peaceful resolution to the standoff in Sabah. In his meeting with the Sultan Vice President Binay said he reiterated his position of the Philippine government and renewed his appeal for sobriety. He emphasized that the parties should exert all effort to arrive at a peaceful resolution.
The Department of Foreign Affairs has also sent a senior diplomat to Kuala Lumpur to coordinate efforts with the Malaysian authorities toward the speedy resolution of the Sabah standoff.
Tension arises last Wednesday, February 27, when six uniformed Malaysian forces have entered the area of Lahad Datu in Sabah. This is after the 4 days extension of the Malaysian Authorities for the followers of the Sultan of Sulu to leave the area.
Meanwhile, after the Malaysian forces dropped leaflets urging the armed Filipinos to surrender, the Philippine Government once again asked the government of Malaysia to extend their deadline for the Sultan of Sulu followers until March 05, 2013 Tuesday.
Until now the government is still waiting for the Malaysian Government's decision over the standoff in Sabah.

- Vic Saure (February 29, 2013 12:02AM)
For more updates follow:
Black Pearl News