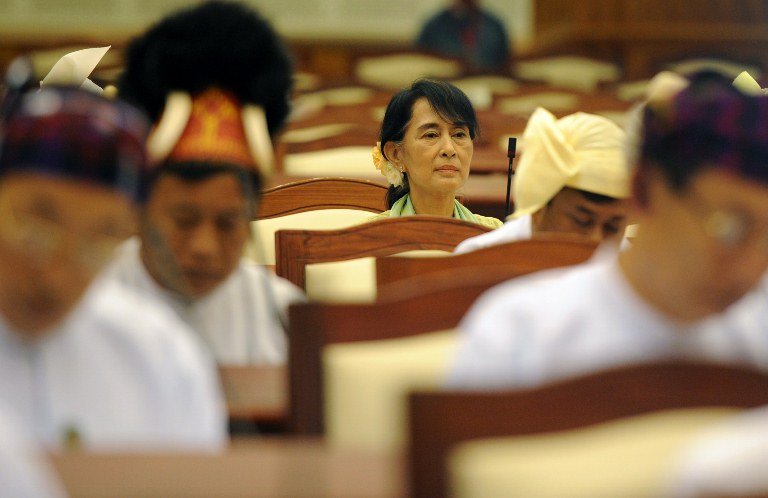 Aung San Suu Kyi's long-suppressed opposition will hold its first ever party congress on Friday, March 8, cementing its new place in Myanmar's political mainstream as it aims to sweep to power in 2015.
Hundreds of delegates will flock from across the country for a meeting aimed at redefining the National League for Democracy leadership, in a major milestone for a group silenced for two decades under the former military dictatorship.
"There has not been a party congress like this in Myanmar's history," NLD spokesman Nyan Win told AFP.
He said the conference, which will draw around 850 representatives for three days of talks, would see the party elect a core leadership executive of 15 people as well as a wider 120-member Central Committee.
Observers are eyeing signs that party head Suu Kyi could revitalize her cabal of advisors to better prepare to steer the country through its myriad challenges -- from a dysfunctional economy to the near-absence of infrastructure, healthcare and education provision.
Many senior party figures are veterans of a massive student uprising in 1988 that was brutally crushed by the then-ruling generals, who ignored an NLD victory in 1990 polls and locked up activists.
This old guard continues to dominate, frustrating younger party members keen for a greater voice.
"The role of young people is essential not only for the NLD but also for the country and for the world," said NLD youth member Yazar, 34.
"We want to see young and clever parliament members."
Ant Bwe Kyaw, of the democracy movement 88 Generation, said the main opposition force must reach out to a wider range of people as it develops.
"The future of the NLD will be brighter if young people and academics with political experience and leadership ability can participate in it," he told AFP.
Nobel laureate Suu Kyi and her party have undergone an extraordinary metamorphosis since a quasi-civilian regime replaced junta rule in 2011. The NLD won 43 parliamentary seats in landmark by-elections in April last year.
"For the first time in two decades there is a robust, formalized and legal National League for Democracy presence the length and breadth of the country," said Nicholas Farrelly, a Myanmar expert at Australian National University.
"The party has money and manpower," he added.
Freed in 2010 from years of house arrest, Suu Kyi criss-crossed Myanmar in an unprecedented by-election campaign last year, drawing massive crowds along the way.
The tour showcased a resurgent NLD, with a network of staffed regional offices, operating under a new recognizable party logo.
It is now Myanmar's largest opposition party -- although parliament remains dominated by the military and its political allies.
Reforms under President Thein Sein -- a former general -- have paid dramatic dividends for Myanmar, with the easing of Western sanctions and expectations of a flood of foreign investment.
The 2015 vote, seen as the ultimate test of Myanmar's democratic transformation, is widely expected to see the NLD sweep to victory, if it is free and fair.
There is still a chance, however, that "a new party of young, technocratic and democratically minded leaders" could alter the electoral dynamic, Farrelly said.
Suu Kyi, 67, has not ruled out presidential ambitions, although a constitutional rule currently bars her from the top job because she was married to a Briton and has two sons who are both foreign nationals.
She has faced flak -- largely from overseas campaigners -- over a perceived weak response to unrest in northern Kachin state and communal violence in western Rakhine, while the party's decision to take funding from cronies of the former junta has also raised eyebrows.
There has in addition been a bitter feud among local NLD members in the central Irrawaddy region, raising accusations of a hierarchy indifferent to grassroots concerns -- a row played down by the party.
"It's nothing but people playing with influence like children with a new toy," said Nyan Win.

-Rappler (March 06, 2013)