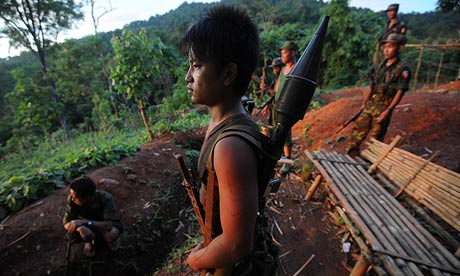 Myanmar on Thursday reached a tentative peace deal with ethnic minority Kachin rebels aimed at ending the country's last major active civil war, which has displaced tens of thousands of people.
Kachin and government representatives, meeting on home soil for the first time since fighting flared up two years ago, signed a seven-point plan to end hostilities in the remote northern region.
"I think we have achieved a breakthrough," said negotiator Min Zaw Oo, a director of the EU-funded Myanmar Peace Center who took part in the talks in the Kachin state capital Myitkyina.
"The agreement is to stop fighting at this point and afterwards there are going to be detailed discussions about the repositioning of troops," he added.
An official translation of the document said the two sides vowed to strive for a "de-escalation and cessation of hostilities".
They also agreed to hold political dialog -- a key demand of the Kachin, who have long argued that negotiations should address their demands for more political rights as well as greater autonomy.
The two sides also agreed to hold discussions on resettling people displaced by the fighting and create a joint monitoring team.
A presidential spokesman hailed the agreement as "really good news". Representatives from the rebel Kachin Independence Army (KIA) were not immediately available to comment.
The bloodshed in the northern state of Kachin bordering China -- along with religious unrest elsewhere in the country -- had overshadowed widely praised political changes as Myanmar emerges from decades of military rule.
Representatives of the KIA and President Thein Sein's reformist government held three days of talks in Myitkyina. Previous rounds of negotiations had taken place across the border in China.
UN Secretary General Ban Ki-moon's special adviser on Myanmar, Vijay Nambiar, also joined the meeting for the first time as an observer, along with representatives of China and other ethnic minorities.
Civil war has plagued parts of the country formerly known as Burma since it won independence from Britain in 1948.
While the KIA is the last major rebel army to agree to a preliminary peace deal, skirmishes occasionally break out between the government and other groups.
According to the UN, about 100,000 people have been displaced in remote, resource-rich Kachin state, where a 17-year ceasefire between the government and the rebels broke down in June 2011.
Thein Sein's government has agreed tentative ceasefires with most of Myanmar's ethnic rebels as part of its reforms, but fighting in Kachin had persisted.
The military's use of air strikes against the KIA in December caused an international outcry, but the violence has since eased.
Since coming to power two years ago, Thein Sein has surprised even cynics by freeing hundreds of political prisoners, easing censorship and letting opposition leader Aung San Suu Kyi enter parliament.
But international optimism over the sweeping changes has been marred by the Kachin conflict and several outbreaks of Buddhist-Muslim strife around the country.
In the latest religious violence, one person was killed and five injured Wednesday in clashes in the eastern state of Shan, bordering Kachin.

- GMA News