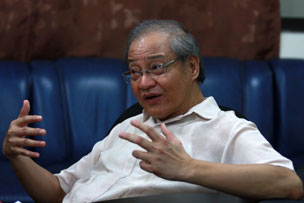 The Philippines should exercise restraint in its territorial disputes with China, as a protracted conflict will injure local businessmen, the former Beijing bureau chief of ABC News said on Wednesday.
"The issue of sovereignty put it on the back burner. We should try to normalize our tourism and trade relations," Chito Sta. Romana told members of the Makati Business Club.
Sta. Romana, who spent four decades living in China, said the Philippines must "exercise restraint and resort to quiet, patient diplomacy to prevent armed conflict."
Manila has been engaged in a spat with Beijing over Scarborough Shoal and other areas in the West Philippine Sea that are believed to hold vast reserves of oil and natural gas.
Sta. Romana said both sides should "find a way to have a mutually acceptable contract or formula that will allow us to jointly explore" areas such as the Recto Bank, which private companies earlier said hold oil reserves bigger than the Malampaya natural gas field.
While both sides had limited military action to posturing and the deployment of sea vessels, the battle has been engaged in the tourism and trade fronts. Chinese travel agencies had imposed a ban on tour packages to the Philippines, while Beijing has tightened quarantine requirements on Mindanao's Cavendish bananas.
"The Philippines is considered a hostile country" by many Chinese, Sta. Romana said.
Makati Business Club executive director Peter Angelo Perfecto told InterAksyon.com that businessmen do not want the dispute to go on for a long time.
"Within our membership, there have been concerns raised, but really more for the long-term, because if this continues further and gets prolonged, then the impact will be, of course, quite bad," Perfecto said.
"Right now it's not yet a major issue, but it is a concern because we don't want to prolong it," he said.
"China might start using that economic card more aggressively; that's what we don't want," he added.

-Interaksyon (August 22, 2012 7:06PM)