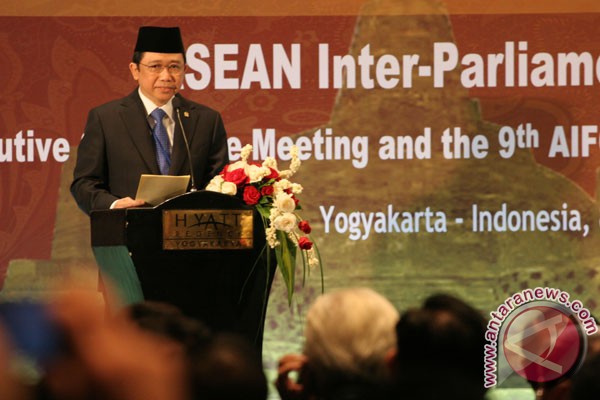 Asean lawmakers are considering setting up an advisory group of high-level parliamentarians to create "new political channels" to address disputes in the South China Sea.
The proposed body, which would advise Asean, is included in a draft political resolution being discussed at the annual meeting of the Asean Inter-Parliamentary Assembly (AIPA) in Indonesia this week.
The meeting got underway on the island of Lombok on Sunday and is scheduled to last until Saturday. It follows the failure of Asean foreign ministers to adopt a joint statement at their annual meeting in Phnom Penh in July in the absence of a regional consensus on the South China Sea.
China has territorial claims in the South China Sea that compete or overlap with those of Asean members Brunei, Malaysia, the Philippines and Vietnam.
The "Resolution on the Situation in the South China Sea" is among 11 resolutions expected to be adopted by the Asean lawmakers meeting this week.
According to the draft, AIPA lawmakers are "deeply concerned" about the "escalation of conflict among the claimant states arising from the overlapping jurisdictional and territorial claims in the South China Sea."
It resolves "to consider to establish an AIPA Eminent Persons Group composed of high-level representatives from AIPA Member Parliaments to create new political channels for negotiation and to provide advice to Asean in its efforts to find a durable solution of disputes in the South China Sea."
It also requests all member parliaments to "develop preventive diplomacy through dialogues and political negotiation to avoid the disputes escalating into conflicts among the parties concerned."
At the same time, it encourages Asean members and China "to expedite the negotiation and conclusion of a regional code of conduct."
It also urges "all claimant states to clarify their claims and to reiterate their full commitment to peacecul solution of disputes in the South China Sea in accordance with universally recognised principles of international law including the 1982 United Nations Convention on the Law of the Sea."
The draft resolution does not mention the failure of foreign ministers to issue their customary joint communique in July. But it notes "with appreciation" the Six-Point Principles on the South China Sea that were adopted and released after the meeting in Phnom Penh.
Senior Asean foreign ministry officials are expected to discuss the South China Sea issue at a retreat in Thailand next month ahead an East Asian Summit chaired by Prime Minister Hun Sen in Phnom Penh in November.

-Asia News Network (September 20, 2012)