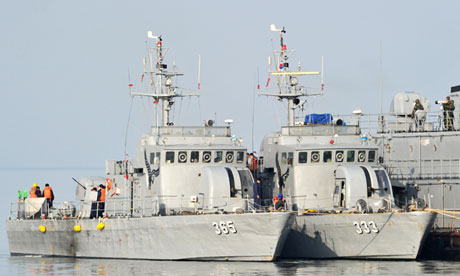 North Korea on Saturday threatened military retaliation after South Korean navy patrol boats fired warning shots at fishing vessels from the North near their disputed Yellow Sea border.
The North's military command in the southwest said the South's navy vessels on Friday intruded into its territorial waters and "went on a shooting rampage," in a statement carried by Pyongyang's official news agency.
The military has been ordered to turn the Yellow Sea into a trap for "enemies and wage a great war for national reunification if enemies fire even a bullet into the area of the (North Korean) side," it said.
"What remains to be done now is a powerful strike of the (North's) front units which know of no limit."
The South said that warning shots were fired at the North Korean vessels after they crossed the disputed border, the latest in a series of incursions.
None of the North Korean vessels were hit and they swiftly returned to their side of the western sea boundary after the incident, a defense ministry spokesman said.
The incident, which occurred close to Yeonpyeong Island, followed a series of recent border violations by North Korean fishing vessels at the height of a fishing season.
It was the first time for two years that the South has resorted to firing warning shots to push the fishing boats back.
The de-facto maritime boundary between the two Koreas -- the Northern Limit Line -- is not recognized by Pyongyang, which argues it was unilaterally drawn by the US-led United Nations forces after the 1950-53 Korean War.
It was a scene of bloody battles in 1999, 2002 and 2009.
The two Koreas remain technically at war since the Korean conflict was concluded with a truce rather than a peace treaty, and small border incidents in the past have been known to escalate swiftly.

-Interaksyon (September 22, 2012 5:50PM)