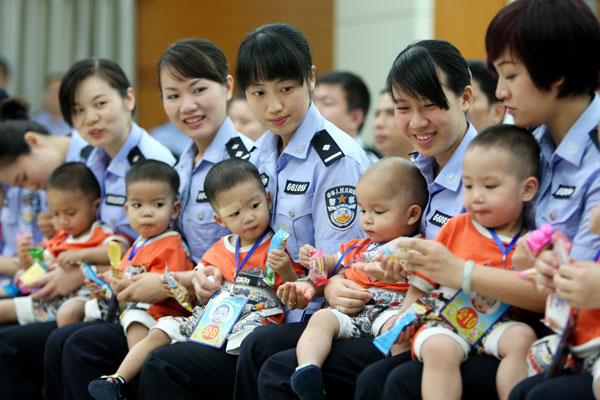 China's Ministry of Public Security on Friday handed over 10 children trafficked from Vietnam to its Vietnamese counterpart in a border city in the Guangxi Zhuang autonomous region.
At a ceremony in Fangchenggang city, Liu Ancheng, head of the ministry's criminal investigation department, urged the two countries to boost cooperation to stop human trafficking.
The abducted baby boys were in poor health and suffered from pneumonia and other diseases when they were rescued by Chinese police on July 15, 2011, according to a notice released on the ministry's website.
One infant was unconscious because the human traffickers gave him sleeping pills to stop him from crying, it said.
The children - from 10 days old to seven months old when they were rescued - received medical treatment and promptly recovered, it said.
Chinese police informed their Vietnamese counterparts of the children's situation and asked them to check their identities and find their parents - partly the reason why the children were handed over more than a year after being rescued.
Before the handover on Friday, some of the children were living in a welfare institution, while others were with foster families in Fangchenggang.
Police from Guangxi and Guangdong also arrested 43 suspects, including 10 from Vietnam, in the joint action.
Some months before the operation, police from Fangchenggang were tipped off that a criminal gang was smuggling children from Vietnam and selling them to places including Shanwei and Jieyang in neighboring Guangdong province.
Liu, at the Ministry of Public Security, said the criminal gang was experienced and organized, made use of the complex geographic conditions of the border area in Guangxi, and that its members were assigned specific tasks.
The difficult terrain near the Beilun River, the cross-border river, has made human trafficking possible as smugglers are able to avoid checkpoints at the border by using countryside roads at night, Liu was quoted by China Central Television as saying.
He said the criminal suspects in Vietnam "used flashlights and body language at the border to communicate with their associates who came to pick up the babies instead of using phones".
It remains unclear whether the suspects have been sentenced.
According to data released by the Ministry of Public Security, Chinese police have rescued 1,804 trafficked women and 41 children from Vietnam since 2009.
Chen Wei, a lawyer from the Beijing Yingke Law Firm, urged the Chinese government to stop granting buyers immunity from prosecution to eliminate human trafficking.
Chinese law stipulates that whoever buys an abducted woman or child can face a sentence of up to three years in prison, but adds that buyers who neither obstruct the police's rescue actions nor abuse the child can be exempted from prosecution.
"Cracking down on buyers is the key to eliminate human trafficking," Chen stressed, adding that the government should also tighten up patrols at the border.

-China Daily (May 04, 2013)