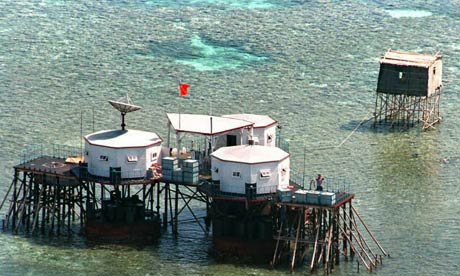 Indonesia and China are committed to a peaceful solution to the South China Sea issue, Foreign Affairs Minister Marty Natalegawa said here on Thursday after meeting with his counterpart Minister Wang Yi.
"Both Indonesia and China, also other countries in ASEAN, believe that we need to implement the Declaration of Conduct on the South China Sea and continue negotiations to form a Code of Conduct (CoC). There is no opposition among one party to another here," said the minister.
Marty emphasized related parties need to reach a comfort level to continue the negotiations for the Code of Conduct.
Meanwhile, Minister Wang Yi reiterated China's stance on the South China Sea issue, saying his country wants to settle disputes in the South China Sea by conducting consultations with related countries.
"China will do its best to maintain peace and stability in the disputed area. This will not change. We are committed to our stance which is reflected in our policy and our action on the field," the minister added.
As to the negotiation process of CoC, Minister Wang Yi said China is open for discussion. However, he emphasized that the draft of a CoC needs to be agreed on by all parties.
China, Taiwan and four ASEAN member countries--Vietnam, the Philippines, Malaysia and Brunei Darussalam--are involved in overlapping claims to parts of the South China Sea.

-Interaksyon (May 03, 2013)