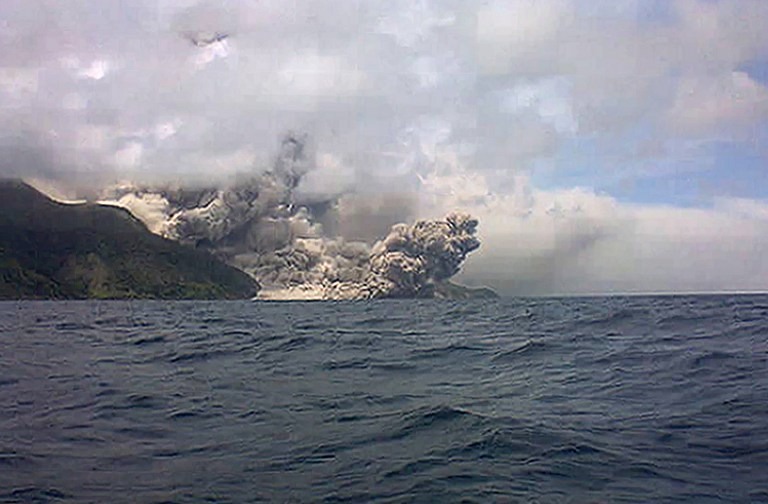 Indonesian rescuers battled Sunday, August 11, to evacuate thousands from an island where a volcanic eruption killed six people the previous day, with the volcano still spewing out rocks and ash at "dangerous levels".
Mount Rokatenda, on tiny Palue island in East Nusa Tenggara province, was sending large clouds of red-hot ash up to 600 meters (almost 2,000 feet) into the air.
"The activity... remains high and at dangerous levels. There are no signs it will stop erupting any time soon," Surono, an official from the state vulcanology agency, told AFP.
On Saturday, August 10, the volcano threw rocks and ash 1.2 miles into the sky and sent torrents of molten lava onto a beach, killing 3 adults and 3 children as they slept.
Activity had been increasing at Rokatenda, one of numerous active volcanoes in the vast Indonesian archipelago, since October and there had been a series of small eruptions before Saturday.
A rescue team was seeking to evacuate some 2,000 people inside a 3-kilometer exclusion zone and a group of "traumatiZed" inhabitants had already left the island, Eduardus Desa Pante, a local disaster management agency official told AFP.
Bakri Kari, one of the team, said rescue efforts were difficult as roads were blocked by ash and people were reluctant to leave their homes.
"It was tough trudging through hot ground covered in ash that was 10 to 20 centimeters thick," he told AFP.
"Everything was burnt by the lava.
"People were scared and many were crying. They wanted to get away from the volcano but at the same time they were reluctant to leave their livestock and homes."
As the volcano began to rumble into life last year, the authorities set up the exclusion zone, with people living inside urged to leave and all activities within the area banned.
Pante said 127 people had already been sent by motor boat to a temporary shelter on Flores island, south of Palue.
"They are traumatized by yesterday's eruption," Pante said, adding he hoped 80 more people waiting at the port could be evacuated on Sunday.
Rescuers had recovered the bodies of the adults killed on the beach but the children had still not been found, he said.
Some 2,000 people had already been evacuated to Flores before Saturday's eruption, leaving around 8,000 people still on the island.
Indonesia has dozens of active volcanoes and straddles major tectonic fault lines known as the "Ring of Fire" between the Pacific and Indian oceans.
The country's most active volcano, Mount Merapi in central Java, killed more than 350 people in a series of violent eruptions in 2010.

- Rappler