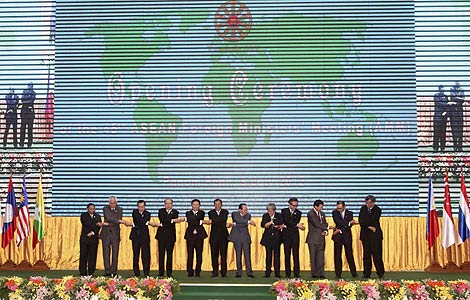 The Association of Southeast Asian Nations (ASEAN) should do some "soul searching" on how the regional bloc can work together more effectively after failing to reach common ground on a territorial dispute involving China and the non-issuance of a joint communiqué at the end of the 45th ASEAN Foreign Ministers' Meeting for the first time in the bloc's history.
ASEAN Secretary-General Surin Pitsuwan of Thailand said Friday that ASEAN could not do anything officially because of the non-issuance of a joint statement that would have served as official record of decisions made in the regional conference.
"I think it's a hiccup and I think we're going to use this pause between now and the summit in November to do exactly what I said – soul searching of how to work together more effectively," Surin said in an interview with Fuji Television Network.
Surin made the statement when asked if the failure to reach common ground on the territorial dispute and the regional conference ending without a joint statement was a setback for ASEAN.
Surin said ASEAN needs more time to consolidate, integrate and try to create a sense of one common identity and one common perspective on issues first before the regional bloc can interact with the world from a position of strength and firm foundation.
"Obviously, this issue has proven that we need to do a little bit more soul searching, we need to do a little bit more coordinating and trying to establish some fundamental principles of working together, dealing with external parties and be more cohesive among ourselves, taking the interest of the whole and trying to manage the particular interests of individual member states," Surin said.
"That balance of the interest of the whole and the individual interest of member states – somehow that balance, that equilibrium has to be found on the way to being an effective global player."
"We have to take on difficult issues both inside the community and outside with other players," Surin added.
The diversity among ASEAN member-states and differences in approaches, perspectives and assumptions should be cleared up among the countries, he said.
"There won't be any (chairman's) statement. That is what I mean – between now and November there'll be that pause and there'll be a void that even the Secretariat doesn't have any roadmap to go on," Surin said.
"Because a lot of decisions that need to be formalized, need to be official before we move on to the leaders' (summit) in November."
Surin emphasized the importance of a joint communiqué as an official record of decisions made in the meeting.
Based on the contents of the joint communiqué, Surin explained the Secretariat will move on to coordinate, follow up, monitor, and link various players together and try to push the process forward and report to the leaders to make the decision.
"But now there is nothing to be based on," he added.
For his part, Foreign Affairs Secretary Albert del Rosario said he does not see a break-up of the regional bloc.
"I don't think we should even think this is the beginning of a tear in the organization. I think it just presents a bigger challenge for us to continue to build on what we stand for – leadership and centrality and solidarity," Del Rosario said.
"I think we've now realized we need to work. All of us need to work together in terms of building this community that we're targeting for in 2015."-

The Philippine Star (July 15, 2012)