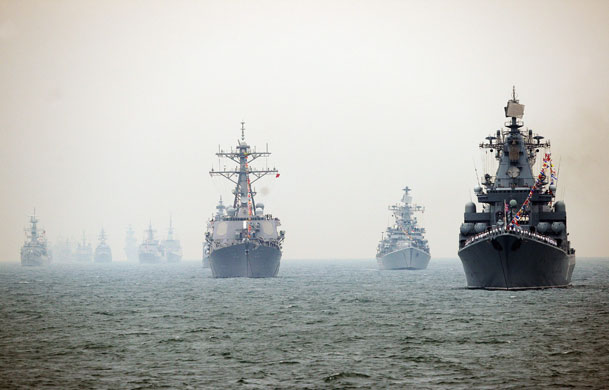 MANILA, Philippines- A large Chinese fleet started fishing at Fiery Cross Reef in the disputed waters of the Spratly Islands Monday night, amid a warning from the Philippines to steer clear of the country's territory.
Chinese state news agency Xinhua said 30 fishing vessels, one of the largest fleet deployed by Hainan province, have started casting their nets in waters near the reef, which it is calling Yongshu Reef.
"We pray for a bumper harvest tonight," one fisherman told Xinhua.
The ships, which are being escorted by Chinese Fisheries Law Enforcement Command vessel Yuzheng-310, arrived in the area around 3:56 p.m. Sunday and will stay for up to 10 to fish.
"Dark clouds were still lingering over the reef on Monday, but the fishermen hoped for the best," Xinhua reported.
The ships include a 3,000-tonne replenishment ship and 29 other large boats.
Deadly naval battle
Waters near the reef where the ships dropped anchor was the site of a deadly naval battle between Chinese and Vietnamese forces in 1998.
More than 70 Vietnamese troops were killed while 2 of their ships were sunk and another was heavily damaged in the skirmish.
It resulted in China gaining control of the nearby Johnson South Reef, which the Philippines calls Mabini Reef.
Dr. Richard Cronin, senior associate and director of the Henry Stimson Center's Southeast Asia Program, told the U.S.-China Economic and Security Review Commission that the deadly outcome of the naval battle was the reason why the Philippine Navy decided to avoid a confrontation with the Chinese People's Liberation Army Navy when the latter occupied Mischief Reef in 1994.
In reponse to the arrival of the Chinese fishing fleet, Philippine Department of Foreign Affairs (DFA) on Monday said China should ensure that its ships will stay clear of the Philippines' 200-kilometer exclusive economic zone (EEZ), as set by international law.
Foreign Affairs spokesman Raul Hernandez said Philippine Coast Guard boats have been deployed to make sure that the Chinese ships do not enter Philippine territory.
"If these (ships) are going to our EEZ, we will file a protest because this is our EEZ and it is only the Philippines (that has) the sovereign right to explore, exploit and manage the resources in that area," he told media.
"We require China to respect the sovereign rights of the Philippines," he said.
China has yet to comment on the DFA's warnings, even as it announced Monday that its deep-sea manned submersible, the Jiaolong, is also set to be deployed to the Spratlys next year for a survey mission to map the disputed area's basin.
China is claiming ownership of the entire West Philippine Sea -- which is believed to hold large oil and gas reserves -- including areas close to the coastlines of other countries and hundreds of kilometers from its own landmass.

-ABS-CBN News (July 17, 2012)