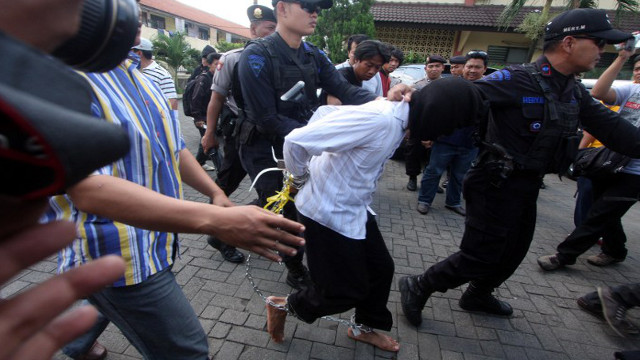 Indonesian police have arrested 4 men suspected of robbing banks to fund militant activities as part of a major counter-terrorism operation across the country, an official said on Friday, May 10.
Seven alleged militants have so far been killed and 17 detained during 3 days of raids, some of whom are suspected of involvement in a plot to bomb the Myanmar embassy in Jakarta that was uncovered last week.
The latest arrests were made in 3 places in Lampung province on Sumatra island overnight from Thursday, May 9, to Friday, May 10, said national police spokesman Boy Rafli Amar.
He said the men had been robbing banks to raise funds for attacks, and were suspected of involvement in one robbery where 460 million rupiah -- $472,000 -- was stolen.
"These fund-raising activities are meant for terror training," Amar said.
They were suspected of channelling funds to militants hiding in the jungle around Poso, on Sulawesi island, as were several others arrested in the raids, he said.
Their links to the Myanmar embassy plot were also being investigated, he added.
Police last week arrested two men suspected of planning to bomb the mission in Jakarta, highlighting growing anger in Indonesia, the world's most populous Muslim-majority country, at anti-Muslim violence in largely Buddhist Myanmar.
Myanmar has been rocked by several recent outbreaks of religious violence, which have left many minority Muslims dead and tens of thousands displaced.

-Rappler