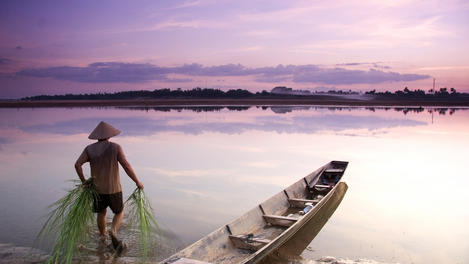 The European Union (EU) will focus more on the world's poorest and least developed countries, including Laos, under its planned new aid reforms which come into force in 2014.
Head of the European Parliament delegation to the ASEP7 meeting George Sabin Cutas on Friday told Lao media of the likely aid increase.
Cutas said the EU aid policy is in the process of being redefined, despite calls by some parliament members to cut aid funding due to the need to exercise financial restraint in the face of economic turmoil.
"We have to somehow reduce our budget, but where the cuts come from is the question we have to answer," Cutas said.
"As a deputy, I will fight to keep the budget level, including the amount of funding for humanitarian assistance, which if it doesn't remain the same will only increase, not decrease."
European institutions are in the process of reexamining their development assistance. This is based on a policy called Agenda for Change, and the EU parliament will be adopting its new financial model shortly.
Under the EU's aid reforms, emerging economies like China, Brazil, Indonesia, Malaysia and Thailand will lose funding as they are no longer seen to be in need.
The shift will concentrate EU aid on the world's poorest countries, where its funds can make a tangible difference – rather than spending it in areas of rapid economic growth.
From 2014, there could be a substantial increase in the EU's funding to Laos. Although there are no precise figures yet, the union's financial assistance could double – if not more.
This is due to the fundamental change in the EU's cooperation policy which will have a stronger focus on the poorest and least developed countries. Laos will naturally benefit from this change, according to the EU Delegation in Vientiane.
European Member States will jointly implement the new policy. The main areas of intervention will remain in line with the Lao government's policy to eradicate poverty, and to achieve its Millennium Development Goals. This includes support for the implementation of the national socio-economic development plan, rural upland development and food security, governance, trade, climate change, and unexploded ordnance (UXO) clearance.
EU-Laos relations stretch beyond development assistance. Both sides are enjoying a more mature relationship on other levels such as political dialogue, in particular a genuine discourse on human rights every year. There have also been discussions on trade and economic relations while Laos sought accession to the WTO this year.
The EU and Laos have enjoyed a continuing and fruitful relationship since both sides signed the 1997 Cooperation Agreement.
The signing paved the way for EU assistance which has amounted to an average of 16 million euros per year across numerous cooperation sectors, mainly rural development, food security, education, health, and UXO.
At a regional level, the EU wants to develop and support better local cooperation, in particular between countries around the Mekong River sub-region.

-Asia News Network (October 08, 2012)