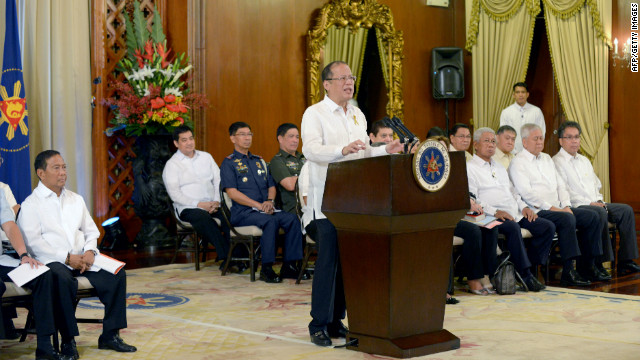 Philippines President Benigno
Aquino announces a historic
peace deal October 7.
The Philippines has reached a preliminary agreement with Muslim rebels, the president announced Sunday, marking a major milestone after decades of militant insurgency in the nation's south.
The Moro Islamic Liberation Front has fought for decades for an independent Islamic state in southern Philippines. It has been blamed for rampant attacks in the region.
President Benigno Aquino III described the deal as a "framework agreement" for establishing a new autonomous region to be administered by Muslims in the south.
It comes after negotiations between his government and the rebels in talks mediated by Malaysia.
"This framework agreement paves the way for a final, enduring peace in Mindanao," Aquino said. "It brings all former secessionist groups into the fold; no longer does the Moro Islamic Liberation Front aspire for a separate state."
It also provides a framework on issues such as power structure and revenues in the southern region.
"This means that hands that once held rifles will be put to use tilling land, selling produce, manning work stations and opening doorways of opportunity for other citizens," he said.
The new autonomous region will be named Bangsamoro.
"It deserves a name that symbolizes and honors the struggles of our forebears in Mindanao, and celebrates the history and character of that part of our nation," the president said.
The preliminary deal marks a major milestone after years of negotiations with the Moro group to help end an insurgency that has killed tens of thousands.
The Moro group is estimated to have 12,000 members, but military sources say it may have been splintered when government troops conducted offensives in 2000.
-Cable News Network (October 07, 2012 0735GMT)