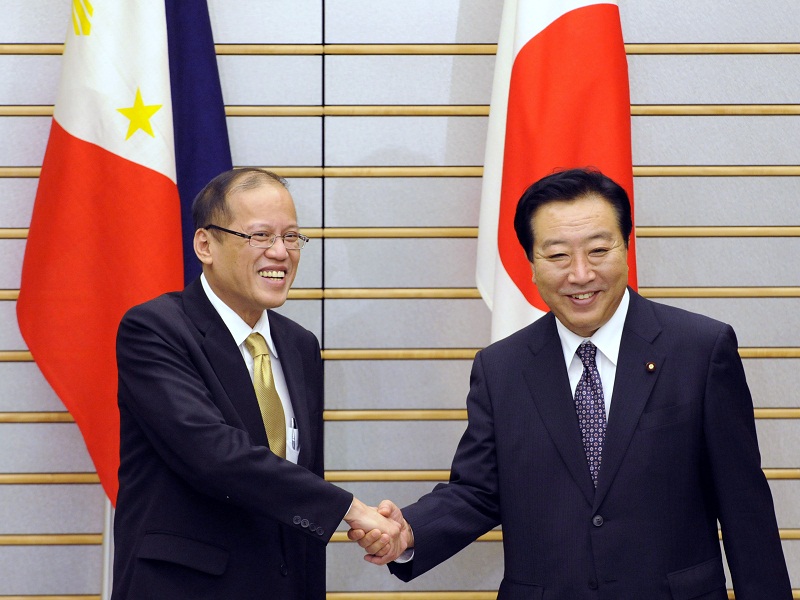 Amid parallel territorial disputes with China, the Philippines and Japan on Thursday started the New Year with the two countries' foreign affairs chiefs discussing "maritime security" and other issues.
Japanese Foreign Minister Fumio Kishida is in Manila as part of a four-leg tour of Southeast Asia just a couple of weeks after the right-wing government of Japanese Prime Minister Shinzo Abe re-took power after Christmas.
From Manila, Kishida is scheduled to fly to Singapore, Brunei, and then Australia.
Following the meeting, Foreign Affairs Secretary Albert del Rosario said Kishida's "timely" visit "reaffirms the strategic partnership" between the two countries.
Their talks, he added, bore "productive discussions on various important bilateral as well as regional issues, such as trade, investments, tourism, development assistance, people-to-people exchanges and maritime security and the Mindanao peace process."
In a statement released to media after the discussion, del Rosario noted that Japan has been helping the country strengthen the capacity of the Philippine Coast Guard in patrolling the country's long coastline.
Japanese assistance, del Rosario said, also comes in the form of "human resource development and augmentation of much needed communications system equipment for maritime safety."
Japan's offer to sell 10 multi-role response vessels "is undergoing serious consideration," he added.
There is also a regular exchange of views and dialogue between officials of the two countries on maritime and ocean affairs.
In mid-December, shortly before the takeover of the new, more military-oriented Japanese government, del Rosario expressed the view that he supports a stronger Japan as a means to keep the balance of power in Southeast Asia, which is now dominated by overlapping territorial disputes of small countries against a rising China.
Abe advocates a change in his country's pacifist constitution and seeks to re-arm Japan.
The pacifist Japanese constitution was adopted following its defeat in World War II.
Japan and its Mindanao engagement
While both China and the Philippines bear scars from the Japanese occupation in World War II, Japan and the Philippines have grown in their engagements in various aspects.
Del Rosario thanked Kishida for Japan's assistance in the Mindanao peace process.
"Since 2006, the Japan-Bangsamoro Initiatives for Reconstruction and Development (J-BIRD) contributed to the peace process through socio-economic infrastructure projects amounting to P5.5 billion," he noted.
Japan also participates in the International Monitoring Team (IMT) in rehabilitation efforts, humanitarian assistance and in monitoring the ceasefire and in the International Contact Group (ICG) as an observer in the peace talks.
Del Rosario noted that Japan is the only country that is a member of both the IMT and ICG in the Mindanao peace process.
On JPEPA, disaster assistance, tourism, etc.
While he recognized that the Japan-Philippines Economic Partnership Agreement remains the Philippines' first and only bilateral Free Trade Agreement, del Rosario expressed the "hope that our two governments would continue exploring both short-term and long-term solutions to help Filipino healthcare workers to be accepted by Japanese healthcare institutions."
Filipino nurses and other healthcare providers need to take Japanese language courses and pass Japanese language tests before they are allowed to work in Japan. The Philippine government sees Japan, with its ageing population, as a huge potential market for Filipino healthcare professionals.
On disaster assistance, Japan has consistently provided emergency relief goods worth some P21 million and extended emergency grant aid amounting to P171 million for a response action plan for recovery through various United Nations agencies. Japanese local governments, private corporations, and non-profit organizations have also extended cash donations and pledges amounting to P11.5 million.
Japan is the Philippines' number one trade partner with total trade exceeding US$13 billion last year. It also remains as the Philippines' top export market for 2012.
Del Rosario said Japan has been the Philippines' number one source of approved investments since 2009 with approved investments reaching P22.35 billion in the first half of 2012 alone.
"The Philippines is also looking into possible collaboration in the promotion of investments with Japanese small and medium scale enterprises (SMEs)," he said.
On foreign aid and soft loans, Japan remains the country's number one source of development assistance.
"Thus, the Philippines looks forward to stronger cooperation with Japan in developing our country's infrastructure particularly in the transportation sector," del Rosario said.
On tourism, Japan ranks third in tourist arrivals, as there were 375,248 Japanese tourist arrivals between January and November 2012.

-Interaksyon (January 10, 2013 11:59AM)