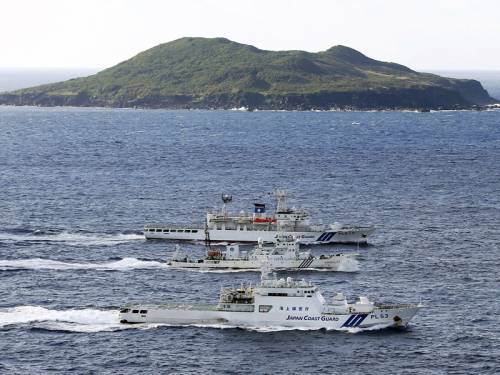 Four Chinese government ships entered territorial waters around Japan-controlled islands at the centre of a dispute Monday, January 7.
The marine surveillance ships were seen moving within 12 nautical miles of the islands, known as the Senkakus in Japan and the Diaoyus in China, just before midday, Japan's coastguard said in a statement.
They were still inside the zone at 7 pm (1000 GMT), with Japanese patrol boat crews telling the Chinese ships to leave the waters, a coastguard official said.
Japan's foreign ministry lodged a protest with the Chinese embassy in Tokyo over the incident by telephone, a ministry official said.
In Beijing, China's State Oceanic Administration said the four ships "continued to patrol territorial waters off China's Diaoyu Islands", according to the state-run Xinhua news agency.
It was the first time since December 31 -- and the 21st time since Japan nationalised the islands in September -- that any state-owned Chinese ship has been seen in the archipelago's waters, which lie in the East China Sea.
A state-owned Chinese plane flew through airspace over the islands early last month. Tokyo responded by scrambling fighter jets and said it was the first time Beijing had breached its airspace since at least 1958.
On Saturday, another Chinese state-owned plane approached the islands without entering the airspace, prompting another Japanese fighter jet dispatch.

-Rappler (January 07, 2013 7:00PM)