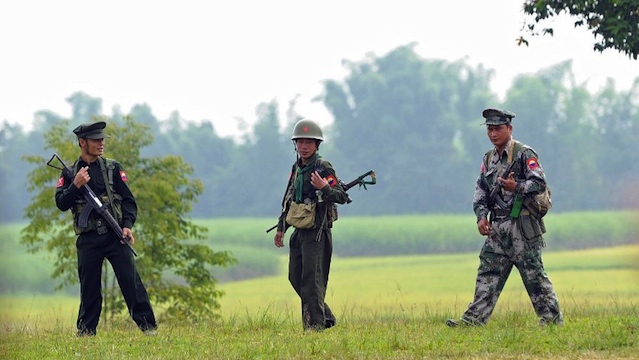 The Asia Pacific Solidarity Council (APSC) asked on Monday, January 8, for the Association on Southeast Asian Nations (ASEAN) to put more pressure on Myanmar to end its airstrikes against rebels in the northern Kachin state.
"As this situation unfolds into a humanitarian crisis, the ASEAN governments are obliged under its own Charter and international laws to address systematic human rights violations," the ASPC said in a statement.
The human rights group claimed that at least 300 people were killed in the latest airstrike by the Myanmar military in an area where around 75,000 residents have been displaced since 2011.
ASPC called on ASEAN governments to join the international community in telling the Naypidaw government that "further military action that would only intensify the conflict and result to widespread human rights abuses" in the country.
The regional bloc should also demand the "unimpeded flow of humanitarian assistance to the internally displaced peoples caused by the conflict."
Ethnic conflict
Myanmar has been facing growing international pressure to halt air attacks on ethnic minority rebels in Kachin state, where an escalating conflict has overshadowed wider political reforms.
Fighting between the military and the armed wing of the Kachin Independence Organization (KIO) in the far north of the country also known as Burma has worsened in recent days as the army battled to regain one of its bases.
Tens of thousands of people have been displaced in the state of Kachin since June 2011, when a 17-year ceasefire between the government and the Kachin Independence Army broke down.
After decades of military rule, Myanmar's new quasi-civilian government has reached tentative ceasefires with most of the other major ethnic rebel groups, but several rounds of talks with the Kachin have shown little tangible progress.
The fighting has persisted despite President and former general Thein Sein's order a year ago for the military to halt offensives against ethnic minority rebels, raising questions about his government's control of the armed forces, and the UN recently asked to stop blocking aid to the displaced people in rebel-held territory.
ASPC stressed that while individual ASEAN member countries have voiced concern on the reported abuses in Myanmar, the regional bloc itself has not taken a unified stand due to its "non-interference policy."

-Rappler (January 07, 2013 5:27PM)